About Us
ZooperIndia, Where Unlimited Fun Begins!
---
If you are looking out for exciting ideas to have unlimited fun with your friends and family, then ZooperIndia is here to offer you a blast of time with the first ever Trampoline park in Gurgaon that comes with a plethora of other entertaining and challenging activities to satiate your adrenaline rush.
Why Zooper?
---
Exclusivity of dining along with the trampoline park is being provided at Zooper. A glow in the dark amusement park, Zooper ensures utmost entertainment in all the required fields along with all the opted comfortable factors choosen by any of the visitor. Hereby, enclosing not only the dining and trampoline area but also the gaming section, this adds a cherry on top to the existence of this adventure theme park in Gurgaon. The place is for sure a must inclusion amongst the best party places in Gurgaon, where the best birthday celebrations along with other events can be organised. Zooper trampoline park has been built for the purpose of throwing the best parties in Gurgaon.
Soft Play Arena
Why should adults have all the fun? ZooperIndia offers kids with lots of activities like playing, sliding, rolling, climbing, and jumping to boost not just their enjoyment but also their health.
---
Battle Beam
Gear up for the ultimate showdown, set your load out, decide your role and fight for the victory. Only the swords are made up of foam and the pit below is lined with cushion-like blocks to let your fun be fused with comfort.
---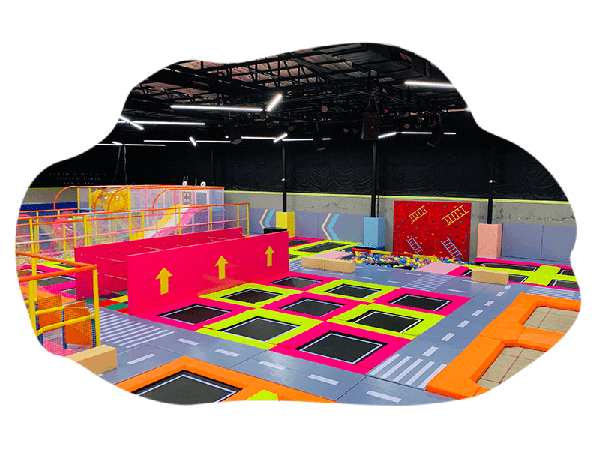 Free Jump Arena
Free Jump Arena offers the best of trampoline experience with a host of incredible trampoline activities. Discover new heights, do parkour tricks and freestyle moves on trampolines at ZooperIndia to enjoy your day!
---
Birthday Party
Children's getaway at Zooper India is a must, especially on an event like birthdays. Children's birthday is an auspicious event not just for themselves to celebrate their year of growing old, but also for their parents. And this day can be filled with all the excitement and escapade, at Zooper. The excitement of the adventure of trampoline makes it important for most kids' birthday celebration in Gurgaon to be held at Zooper.
Kitty Party
When all the world is enjoying, mostly it is mothers who work and Kitty party is one such escape that most mothers enjoy a lot. Although, there is one hurdle that the mothers of the young ones go through is their constant attention towards them. Amongst all the kitty party places, Zooper India is one such adventure theme park in Gurugram where the mothers can enjoy the dining area, while the kids can be taken care of at the trampoline and gaming section.
School Trip
School Trips are the most memorable times in the life of every existing human. The exploration, fun, and adventure we unravel during this time is innocent as well as unmatchable. For such a memory-making and fun experience, Zooper India is ready to contribute as being one of the best amusement parks in Gurugram. While finding the best places for school trip in Gurugram, Zooper India serves the required fulfilment.