Is there a possibility to purchase food and beverages at the Zooper Trampoline Park?
Yes, Zooper India along with being the best trampoline adventure theme park in Gurugram, also provides the best food to its visitors. The café by the name Stormi is present at Zooper India which provides with the best munchies and beverages to drink along with the fun you can grasp from the trampoline park.
Does Zooper India also provide with a locker room?
Yes, Zooper India knows how to keep the private stuff with privacy and this adventure theme park is here to provide with every basic amenity that a visitor requires.

Is it necessary for me to make any kind of prior reservation?
No, Zooper India, Gurugram is here to provide the adventure theme park's entry based on any time entry. So, a visitor is welcome any time and can directly accommodate the fun given here.
Is it necessary for us to have IDs in order to Jump?
Yes, a valid Adhaar card or any other valid ID card is really necessary for enjoying the rides and food at Zooper India.
Is it necessary for us to arrive as a group or can I come alone?
This place does no bias to any individual. At Zooper India you can opt to come alone as well as come in a group, it all depends upon the way you would like to opt for. But obviously it's a fact that 'more the people, the merrier it is'. So, visiting Zooper India in a group would be more exciting than coming here individually.
Is there any charge for those who do not intend to use a trampoline?
No, there is no charge put up for the one's who do not wish to use the trampoline at Zooper India, but trampoline is a must try at Zooper India.
What is the recommended age range for trampoline use?
At Zooper India, there are several options which we can opt for any age group, amongst it soft play is for children who are 1.5 to 11 years old and for the trampoline can be accessed to kids and adults above 5+ years onwards.
Is it permissible for us to bring in outside food and beverages?
No, outside food is not acknowledged at Zooper India. Also, when the in- house food is so mesmerizing, it becomes completely unnecessary to have the outside food next to you.
Is it possible for me to celebrate my birthday party at Zooper?
Zooper India has the best capacity to provide the most thrilling birthday party with its two flawless banquets which not only provide them the space but also with the best games and tasty food.
Do you help organize a party?
Yes, we also help organize a party kept privately or at our venue, Zooper India.
Are there any birthday party packages available?
Yes, there are best birthday packages available, depending upon the age of the child. The packages stand different for different age groups. But all the packages are worth availing for organizing and giving your kid the best birthday of their lifetime.
If I'm throwing a party, is it okay if I bring my own music?
Yes, of course. We are very much ready to take all the requests for making the day eventful for all the visitors.
When should I order the food and cake for the party?
An advance booking is always suggested for the people booking a birthday cake. Making a cake on the urgent basis becomes difficult for the baker to prepare with utmost accuracy and delicacy. To aspire for a tasty and delicious cake, it is important to opt for the advance booking option.

Do you have any discounts for groups?
Yes, outside coupons specially meant for Zooper India are acknowledged along with the corporate/ group packages. These packages can provide a feasible discount to the coming entertainment seekers.
Is Zooper appropriate for business events?
Zooper India provides the best deal of entertainment and food for all types of events along with the most serious events like business gatherings. But at Zooper India business related affairs can even be treated with at most seriousness and entertainment.
Can a youngster, below the age of 18 attend Zooper without the supervision of an adult?
No, the youngster should always attend the rides at Zooper within the supervision of an adult, be it their parents or any family member. Until the youngster becomes an adult, Zooper India would suggest the youngster to always be companied as the safety and security of the child is the utmost priority of Zooper India.
Is it possible for two people to jump on the same trampoline?
Yes, it is quite possible and safe as the strength and quality of the product used at Zooper India is never degraded.
Is it okay if we wear shoes or socks?
Neither would work in this case as we have an exclusive grip sock for the trampoline which you need to buy from the counter.
Is there a waiver I need to sign before visiting the Zooper trampoline park?
Yes, there exists a waiver.
Do accidents happen?
At Zooper India the accidents happen very rarely as we are well aware of all the safety precautions. Also, there is quite experienced staff present at Zooper India to take care of all such mishaps.
Is it secure?
Yes, it definitely is secure.
Is there a minimum age requirement for every play zone?
Yes, it is 1.5 years for soft play zone and 5 years for extracting the fun at the trampoline.
What is the maximum weight a person can go with upon these excursions?
It is either less or equal to 110 kg, not more than this.
What should I wear if I'm going to jump in a trampoline?
The grip socks we provide, you would be needing them for trampoline and these grip sock could be purchased easily from the counter.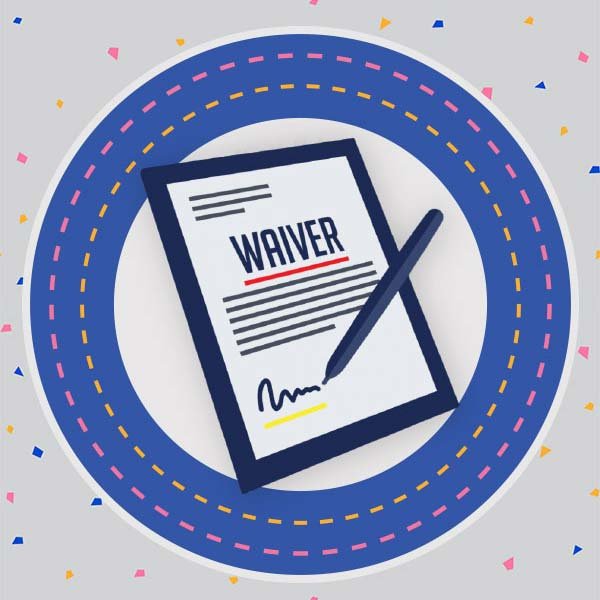 Is it possible for siblings, aunts, uncles, and grandparents to sign a minor's waiver?
Yes, anybody related to the minor is obliged to sign the waiver for him/her. Rest assured the security o the minor is always kept secured at Zooper India in the presence of the signatory of the waiver.